The Convention on the Prohibition of the Use, Stockpiling, Production and Transfer of Anti-Personnel Mines and on Their Destruction is the cornerstone of the international effort to end the suffering and casualties caused by anti-personnel mines.
Negotiation of the Convention
The so-called Ottawa Process led efforts which would ultimately result in the adoption and signing of the Convention. The Process began in 1996, right after the Ottawa Conference held from 3-5 October in Canada.
The Process was a "bold gamble" that paid off largely as a result of the advocacy work of the International Campaign to Ban Landmines and the International Committee of the Red Cross working in partnership with a core group of States that were equally committed to a ban on anti-personnel mines. These States included Angola, Austria, Belgium, Bosnia and Herzegovina, Canada, Germany, Norway, Philippines, South Africa and Switzerland, among others.
In addition to a variety of regional conferences and mine action forums that took place in 1997 all over the world, the Process featured various events of great significance.
Find out what those events were and more on the Process here.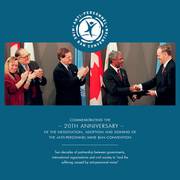 Also, read more on the adoption and signing of the Convention through a 20 anniversary publication here.
The Convention was adopted on 18 September 1997 and it entered into force on 1 March 1999. In 1997, the international community commemorated the 20 years of the Ottawa Process, negotiation and signing of the Convention.
The Convention nowadays
To date, 164 States have formally agreed to be bound by the Convention.
The Convention provides a framework for mine action, seeking both to end existing suffering and to prevent future suffering. It bans the use, stockpiling, production and transfer of anti-personnel mines.
In addition, States that accede to the Convention accept that they will destroy both stockpiled and emplaced anti-personnel mines, and assist the victims of landmines.
Convention Text | Official Versions
Convention Text | Unofficial Translations